Sign up for CNN's Wonder Theory science newsletter. Explore the universe with news on fascinating discoveries, scientific advancements and more.
When the crewed Artemis II mission makes its lunar flyby in late 2024, we'll be able to see video of the moon like never before — and it's all thanks to lasers.
The Orion spacecraft will launch atop the Space Launch System rocket in November 2024 to carry NASA astronauts Reid Wiseman, Victor Glover and Christina Koch, and Jeremy Hansen of the Canadian Space Agency on a roughly 10-day journey beyond the moon and back.
Along for the historic journey to the moon will be the Orion Artemis II Optical Communications System, or O2O — making Artemis II the first crewed lunar flight to demonstrate laser communications technology.
The O2O system will be capable of returning high-resolution images and video of the lunar surface back to Earth with a downlink rate of up to 260 megabits per second. The high bandwidth, a far cry from the grainy footage captured during the Apollo missions 50 years ago, could enable high-definition views of the moon in real time.
The laser system will also be able to send and receive procedures, flight plans, voice messages and other communications between the Orion spacecraft and mission control on Earth.
"By infusing new laser communications technologies into the Artemis missions, we're empowering our astronauts with more access to data than ever before," said O2O Project Manager Steve Horowitz in a statement. "The higher the data rates, the more information our instruments can send home to Earth, and the more science our lunar explorers can perform."
Traditionally, NASA has relied on radio waves to communicate with spacecraft and return data to Earth.
Antennae located across the world receive communications from satellites that transmit radio frequencies carrying data to and from various missions, like returning scientific data or sending commands from mission control.
Lasers, traveling as invisible beams, can send terabytes of data in a single transmission. The laser communication systems, which are also more lightweight, secure and flexible, can supplement the radio waves used by most NASA missions.
Lasers in space
It all started in December 2021 with the launch of NASA's Laser Communications Relay Demonstration, or LCRD, which went into orbit about 22,000 miles (35,406 kilometers) from Earth as the first test of two-way laser communication.
The experiment, which lasts for two years, will reveal the impacts of Earth's atmosphere on the laser signals as NASA and other agencies and institutions test its capabilities.
Then, there was the launch of the TeraByte InfraRed Delivery satellite, or TBIRD, in May 2022. The tissue box-size satellite provides 200-gigabit-per-second data downlinks, which is the highest optical rate yet achieved by NASA.
"In the past, we've designed our instruments and spacecraft around the constraint of how much data we can get down or back from space to Earth," said TBIRD Project Manager Beth Keer in a statement. "With optical communications, we're blowing that out of the water as far as the amount of data we can bring back. It is truly a game-changing capability."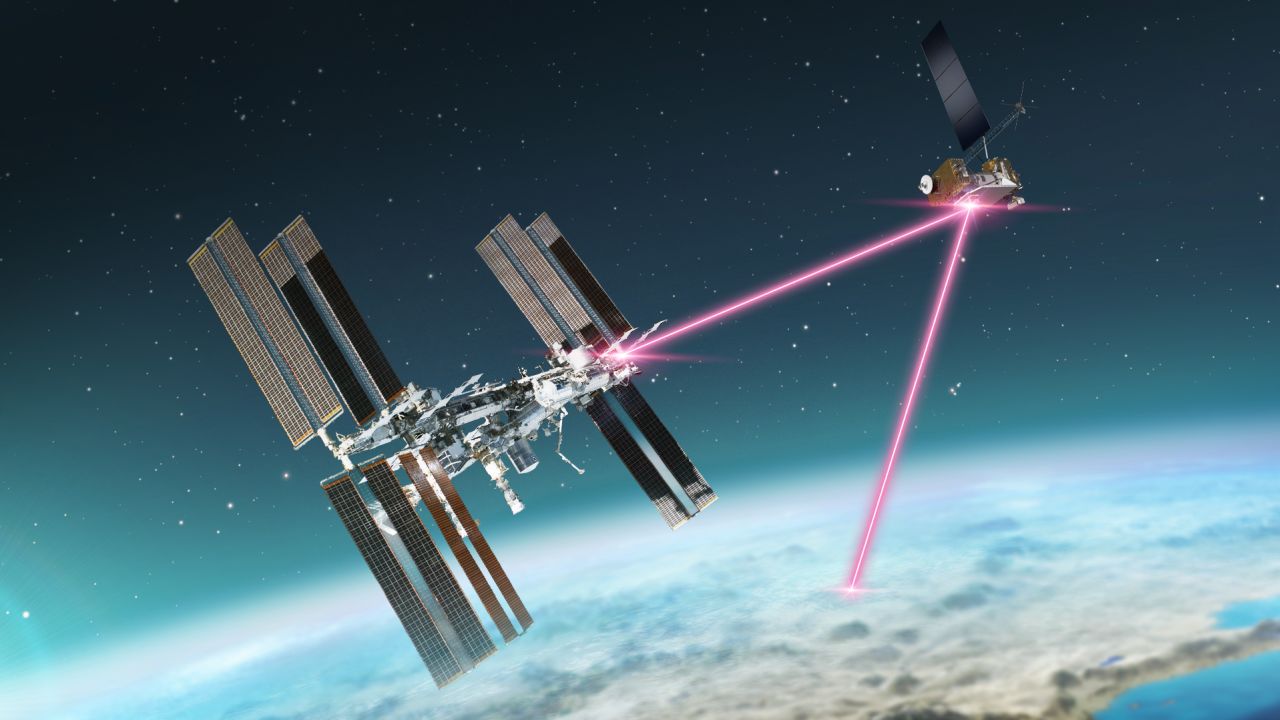 This year, NASA will launch the Integrated LCRD Low-Earth Orbit User Modem and Amplifier Terminal, or ILLUMA-T, on a SpaceX resupply mission to the International Space Station.
The terminal will bring laser communication capabilities to the space station, gathering data from the hundreds of experiments that take place on the orbiting laboratory and relaying it to LCRD at 1.2 gigabits per second.
The transfer rate is so fast, it's like downloading a feature-length film in under a minute. Then, LCRD can transmit the data to ground stations in Hawaii or California.
"ILLUMA-T and LCRD will work together to become the first laser system to demonstrate low-Earth orbit to geosynchronous orbit to ground communications links," said Chetan Sayal, project manager for ILLUMA-T at NASA Goddard Space Flight Center in Greenbelt, Maryland, in a statement.
Testing laser communications in low-Earth orbit and between the moon and Earth during Artemis II could lead to future technology that could travel across extreme distances in space, like preparing for future crewed missions to Mars. One day astronauts could send back ultra HD video from the Martian surface.
"We are thrilled by the promise laser communications will offer in the coming years," says Badri Younes, deputy associate administrator and program manager for space communications and navigation at NASA headquarters in a statement.
"These missions and demonstrations usher in NASA's new Decade of Light in which NASA will work with other government agencies and the commercial sector to dramatically expand future communications capabilities for space exploration and enable vibrant and robust economic opportunities."